A WORD FROM THE PRESIDENT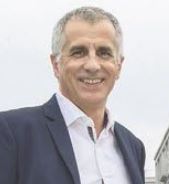 At a time when we are becoming aware of the environmental emergency, the societal emergency and the necessary urban resilience, we, in our own way, have organized our own resistance and built our development project. Thus, at the end of an unprecedented global health and economic crisis, we are ready to contribute to the announced recovery plan.

Yesterday, we created Agi2d to accompany the environmental revolution. Today, we are designing the resilient, frugal, innovative and supportive city with Agi'Cité; we are participating in the massification of construction processes using low-carbon and bio-sourced alternative materials, and we are strengthening our engineering to build with wood.

Yesterday, we revolutionized our working methods with BIM. Today, we are expanding the movement by creating our specialized API bim offer. And we are deploying our Réhagie process to secure housing renovation.

We continue to transform and design buildings that consume less energy, and we are also studying renewable energy solutions at the level of a neighborhood, a city, or a territory. And in the industrial sector, we bring our capacity for innovation to bear on the conversion and decarbonization of sites threatened by energy obsolescence. We are developing the engineering of green hydrogen produced from renewable or recovered energy.

Bérim was born from the thinking of engineers and resistance fighters to rebuild cities ruined by the war. Raymond Aubrac and his fellow students had defined their operational objectives. Their social and humanist values have been bequeathed to us and are reflected today in a revised, updated and modernized company project.

Finally, I must say two words in recognition of the work of the company.

Our framework, our legality: the MOP law, is often decried, questioned, even neglected; we think that in the end it goes against the interest of the project owners. If the MOP law is the worst system of project management... it is the exception of all the others! We will always defend professional and innovative engineering associated with talented architects in the noble profession of project management.

We are proud to have been able to maintain and develop a high level of technical engineering, by the sole quality and ingenuity of the women and men who compose it, a modern tool that is constantly being called into question, but remains at the service of communities.
Hervé Brogat
Chairman and CEO